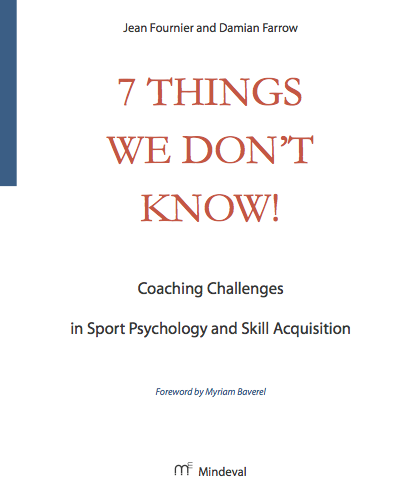 Lessons from contemporary Sport Psychology and Skill Acquisition research
by Jean Fournier and Damian Farrow, two renowned international experts in sport psychology and skill acquisition.
Available now on Amazon.com and CreateSpace.
7 Things We Don't Know is a book designed for progressive coaches who are motivated to consider and potentially adjust their current coaching or training programs so that they are getting the most out of contemporary Sport Psychology and Skill Acquisition research.
What makes this book different from many other texts on Sport Psychology and Skill Acquisition is that the content is presented in the most applicable manner to coaches and athletes. The chapters are short and concise, and numerous practical examples are provided to illustrate how the theory is applied to practice.
Contents
Dream And Reality — How To Use Mental Imagery
Mindfulness: Here And Now
Focus: What Are You Thinking About?
Routines: How To Use Them?
Skill Practice: Why Messy Practice Provides A Neat Performance
Developing Anticipation: How To Create All The Time In The World
Coaching Implicitly: Saying Less Often Means More!
Providing Effective Feedback: Is Real-time Precision Really Required?

Jean Fournier is a senior researcher at French Institute of Sports Expertise and Performance (Paris) and an associate professor at the University of Paris 10. His research focuses on the effects of mental training on performance, recovery, imagery, attention, and mindfulness. He is Co-Editor of the International Journal of Sport Psychology.
Jean has provided sport psychology services to athletes and coaches in judo, figure skating, shooting, archery, diving, taekwondo, gymnastics, kayak, pentathlon, rowing and cycling. In the last decade, he has worked with various Olympic athletes and coaches, and with the French Golf Federation.

Damian Farrow is Professor of Sports Science and a recognized Skill Acquisition Specialist at the Victoria University and the Australian Institute of Sport (AIS). Damian's applied research interests centre on understanding the factors critical to developing talent/sport expertise. He has worked with a wide range of sub-elite and elite level AIS programs and national sporting organisations including the Australian Football League, Cricket Australia, Tennis Australia, Netball Australia and Australian Rugby Union.
Damian is the co-author of three general interest sports science books "Run Like You Stole Something: The Science Behind the Score Line", "Why Dick Fosbury Flopped: and answers to other big sporting questions" and "It's True: Sport Stinks" and the co-editor of the text "Developing Sport Expertise: Researchers and Coaches Put Theory into Practice". He has published widely on the topic of skill acquisition and has converted many academic publications into articles for a coaching audience.